Services
---
Bill Pay Plus is an electronic payment system which permits you to initiate and authorize payments from your accounts to payees, which you have selected in advance to receive payments by means of this service.
For Customers who select Basic Bill Pay, these services are available:
One-time payments
Occasional payments
Fixed recurring payments
Variable recurring payments
Payment Calendar automatically calculates earliest delivery date for your payment
Payments are deducted from your account on the payment due date
Basic Bill Pay is FREE.
Optional Premium Services
Account

to Account transfers (A2A) $2.00 per transfer

Person

to Person transfers (POP money) $.50 per

transfer
Same day or overnight delivery $9.95 to $14.95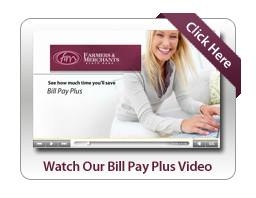 See or contact one of our customer service representatives for more details.
Farmers & Merchants VISA/Debit and ATM card
| | |
| --- | --- |
| The Electronic Check – we've made checking easy and convenient with one versatile card. It's a cash card and an "electronic" checkbook in one. Welcomed wherever VISA is accepted, the amount is drawn from your checking account, just as if you had written a paper check. No more hassles with running short of checks or needing multiple forms of identification. No annual fee. Get double the convenience -- all the access of an ATM card, with all the buying power of paper checks, electronically! | VISA/Debit Card ATM Card |
To report a lost or stolen ATM/Debit card, please call 1-800-554-8969.
Safe deposit boxes are a safe way to protect valuables and important papers.
Note: There is no insurance coverage on safe deposit box contents.
Fees:
Orient Office
3 x 5……….$10.00 annually
5 x 5 ……… $20.00 annually
3 x 10………$18.00 or $25.00 annually
5 x 10………$35.00 annually
Winterset/St. Charles Offices
3 x 5……….$18.00 annually (not available at St. Charles Office)
5 x 5……….$22.00 (Winterset) / $15.00 (St. Charles) annually
3 x10 ……...$25.00 (Winterset) / $20.00 (St. Charles) annually
5 x 10……...$30.00 (Winterset) / $25.00 (St. Charles) annually
15 x 15…… $100.00 annually
We initiate wire transfers. Outgoing - $15.00 Incoming - $5.00
Free notary service is available to our customers.
Our night depositories are available for your use any time.
Main Bank – Located in the foyer entrance
St. Charles – Located in the East side of the building in Drive- Up Lane #1.
Motor Bank – Located on the East side of the building in Drive-Up Lane #1
Orient – Located on South side of the building by Drive-Up Window
Direct Deposit is available through government agencies and certain businesses. With this program, your account will be credited the same day. For more information on direct deposit programs, e-mail email@fmsbiowa.com.
Money orders and cashier checks provide a safe way to transfer funds or send money through the mail. These are available during lobby hours only.
Personal money orders (bank customers)……$2.00
Cashier's checks (bank customers)………….$4.00
Automatic transfers provide a convenient way to transfer funds between accounts on a scheduled basis. See us during lobby hours to make arrangements for this service.
Farmers & Merchants State Bank has an electronic statement and notice delivery system. By signing up for FREE electronic statements you will receive timely information regarding your account. When your account information is available to be viewed you will be notified by email and directed to log on to your f&m on-line banking account.
The benefits of electronic statements include;
Receive timely information regarding your account. 24-7 availability with f&m on-line banking.
Statements will not get lost or stolen in the mail. You must use your confidential Access ID and password to log into the f&m online banking website to view your electronic statements.
View and save your electronic statements and checks on your computer.
Electronic statements are environmentally friendly.
It's FREE, so make the move to electronic statements today!